Greeting
I took over Higashimoto Kikai Co., Ltd from the founder, Mr. Tsuyoshi Higashimoto, in 2005. We keep our founder's policy in our minds, keep learning new knowledge, and keep challenging new developments. This is Higashimoto Kikai that all members are engineering development types. By arranging every process, including development, designing, manufacturing, sales and installation, on our own company, we are able to have our customer's needs and reflect them into our development capability and its speed. We'll keep challenging ourfield to have our customer's satisfaction.
Shinya Okada
Profile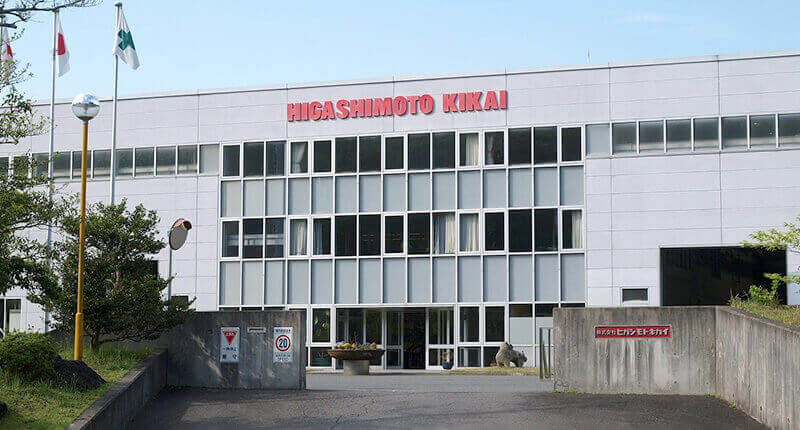 Name
Higashimoto Kikai Co., Ltd
Location
Head Office
ZIP:630-2223 1149 Mikadani Yamazoemura Yamabegun, Nara Pref.
TEL:0743-87-0231 FAX:0743-87-0239

Tokyo office
ZIP:125-0061 2-58-6 Kameari Katsushikaku, Tokyo Pref.
TEL:080-3549-2224

North Kanto Service Center
ZIP:327-0843 3370 Horigomecho Sanoshi, Tochigi Pref.
TEL:090-8885-5608
Foundation
1st, July 1969
Flotation
1st, July 1971
Capital
80 million yen
Representative
Shinya Okada
Employee
Number 57
Description of Business
Designing, manufacturing, sales and system planning for food processing machinery.
Corporate history
in 1969
Higashimoto Kikai Co., Ltd is founded in 1969 as a manufacturer for meat processing machinery at Ichibu Ikoma Nara Japan. In 1971, two years later of the foundation, our company was reorganized and Higashimoto Kikai Co., Ltd was born. The mainstream of meat processing machinery, mainly used for material processing for ham and sausage was imported from Europe and the United States such as Germany at that time. Only a few manufacturers were challenging the market. We moved our factory from Ichibu town, Ikoma city to Kitatawara town. "Producing machines which can compete with overseas prestigious manufacturers." With this goal, we continued running to achieve the goal and we became a leading domestic food processing machine manufacture.
in 1991
The new factory, estimated 30,000㎡, was built in 1991 at Yamazoe Nara. The area around the new factory was called "Yamato Plateau." For the founder, constructing the new factory and office surrounded by plenty of greenery was a desire in the history of a company. The new factory has latest machines and builds up consistent manufacturing capability from designing to after-sales service. On the other hand, we've actively tried to have technical cooperation with Germany and the United States. As a result, we build up the system that we can offer the total system planning with giving each strong point and We've developed all-round manufacturer of food processing machinery.
in 2000
In 2000, based on the idea of the founder " thank you our globe," we stepped into the development, manufacturing and sales of environment-related machinery such as wind electricity equipment as a corporate activity to drive reducing the effects on the environment by using technical capabilities of our field and our latest machines.
in 2002
In 2002, we acquired international standard on environmental management, ISO 14001. Based on the code and standard, we advance 5S activities and "visualization." We are still in activity.
in 2005
In 2005, current president Shinya Okada took over from the founder, Tsuyoshi Higashimoto. We, Higashimoto Kikai Co., Ltd, have advance toward an even greater goal with our heart united as one together with the spirit of the founder.
in 2011
We opened Tokyo office in Tokyo.
in 2015
We opened Kanto service station in Sano city, Tochigi prefecture.
Environmental policy
With the theme of our basic environmental idea " thank you our globe," Higashimoto Kikai Co., Ltd consider our corporate activities, productions such as food machinery/environmental equipments and our service as effects on environment. We pay close attention to producing load reducing typed machinery on environment to protect environment and resources. At the same time, we develop high productive corporate activity, realizing a new world in which we respect each other and love all nature with our heart united as one.
Manufacturing and development for load reducing typed production on environment
We'll perform product assessment, make it practicable and develop creating technology to develop new energy conscious and resource and energy saving conscious products.
We'll make it possible to get low environmental load products and materials. Also, we'll reduce our stocks.
By completing the process of control, we make products speedy and utilize time effectively.
We'll improve our profit ratio to perform scheduled " muda-zero activities."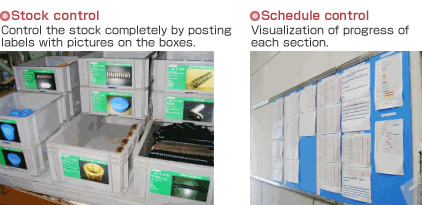 Promotion of environmental conservation activities
We will continue improving the environmental management system and promote the achievement of our activities.
We will implement the program of the environmental management system step by step to achieve our purpose and goal on environment.
We will observe regulations and agreements on environment. When needed, we will settle self-management standard value.
We will prevent the loss caused by machine break down by promoting the conservation activities for the machine tool according to the plan.
Prevention of environmental pollution
We'll reduce the amount of emission of industrial oil and prevent water and ground pollution by conducting proper handling.
We'll pay attention to use our company cars and transport our products effectively.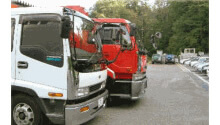 REDUCE・REUSE・RECYCLE
We'll lift the usage rate of stainless and keep promoting recycle and reuse.
We'll recycle spent resin, used paper, oil waste and liquor waste. Also, we'll reduce the usage of them by proper handling.
Implementation of environmental audit
We'll review environmental management system by conducting internal audit for environment and keep promoting the system.
All-hands environmental conservation activities
We'll make all employees take part in the environmental conservation activities by making them understand the importance of global environmental conservation and our environmental line through education on environment and cleaning on a premise.

Open to the public
We'll open our environmental line to the public, communicating with our customers and neighborhood. We'll make it possible to coexist with society.
FABIK examination
Overseas Network
No company produces all types of machines in our market. A few companies compete with one another. Among the manufacturers, Higashimoto Kikai has almost all processing machines. At times, we cross swords with many world competitors as equals and at other times, we've cooperated with each other to improve our skills. On the other hand, we gave away our small machine to meat laboratory in Ohio State University in the United States. We've contributed to raising international technical level.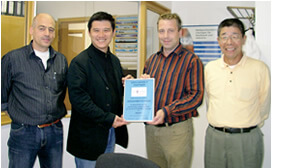 We consider technical cooperation and communication with worldwide manufacturers, international view and information network as an important fortune. These experiences and knowledge from Germany and Sweden have made it possible to produce our environmental-related equipment and welfare-related equipment.
AUTOTHERM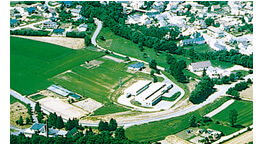 World wide smoke house manufacturer located in the ham and sausage country, Germany. Both German traditional know-how and Japanese latest technologies make it possible to produce excellent smoke houses.
COZZINI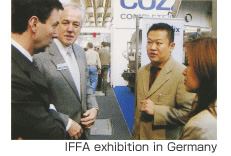 World wide manufacturer for ham and sausage processing machinery located in Chicago The United states. COZZINI invented "suspentec system," a system that injecting animal protein into meat materials. With COZZINI, we offer original systems suitable for Japan market.
KITTNER
KITTNER is a Bulgarian company that specialize in cleaning units. Their innovative style allowed us to collaborate to create new line of products. Our massage tank cleaning unit was the prime example. We continue to innovate both within our own company and partnerships with others.